MAINTENANCE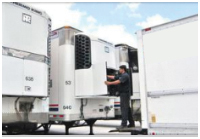 We believe strongly in preventative maintenance which keeps all of our equipment operating at peak performance. Preventative maintenance also helps to avoid break downs and unscheduled repairs that disrupt a customer's business.
Sonsray will offer training for a customer's personnel at the installation of the equipment, and on an ongoing basis as needed.
Should a piece of equipment be down for repairs a replacement will be provided, if possible.
All maintenance, service and most repairs can be performed at the customer's location(s). Including 90 day BIT inspections.
SERVICE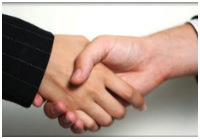 We can provide service and repairs 24 hours a day, 7 days a week, where ever the equipment may be, including road side.
All maintenance, service and repairs for normal wear are the responsibility of Sonsray.
We can also arrange for a customer to be contacted regarding maintenance programs for Customer owned equipment.
Refrigerated Trailer Rentals
Refrigerated Storage Trailers
Multi Temp Refrigerated Trailers
Climate Controlled Trailers
REPAIRS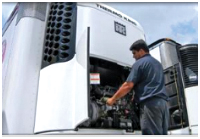 SONSRAY currently operates out of 9 full service locations throughout California, Nevada, and Arizona. Our service network includes a fleet of 48 mobile trucks providing on-site service, maintenance, and repair. Additionally, SONSRAY requires all network service providers to be factory trained and certified to support our equipment, and customers throughout our operating areas. Service is always available 24 hours a day 7 days a week. We also provide onsite training on the operation of our equipment, and exclusively utilize only state of the art equipment.